Our commitment to ECOSYSTEM

Concerned about our environment, we are committed to recycling our electrical equipment since 2022.
Every year, thousands of tons of electrical and electronic equipment (EEE) become end-of-life. This equipment often contains substances or components that are polluting for the environment, but it also represents a high potential for recycling the materials that make it up, such as metals, plastics or glass.

In order to preserve natural resources, there is a real need to produce in a sustainable way and to avoid polluting. The solution: recycling. Whether you are a manufacturer, a distributor, an installer, a maintainer or a user (...), everyone has a responsibility.
The CFI professional electrical equipment that you use in the course of your activities becomes Waste Electrical and Electronic Equipment (WEEE) when it reaches the end of its life.

In France, the Environment Code (articles R.543-172 and following) defines since 2005 the management modalities of the WEEE recycling channel, based on the principle of Extended Producer Responsibility (EPR). Thus, any producer putting professional EEE on the market must organize and finance the collection, depollution and recycling of its equipment.
Committed to a responsible approach, we have chosen to fulfill our regulatory obligations by financing a collective recycling channel, in order to pool resources with other manufacturers, distributors and importers. We have joined Ecosystem, a non-profit eco-organization approved by the Public Authorities, to coordinate the collection, depollution and recycling of professional WEEE.
By joining Ecosystem, we guarantee you a reliable and quality service for the collection and recycling of your electrical equipment. 
CFI for climate program
Beyond its role as an industrial and a manufacturer, CFI specialist in refrigeration thanks to its knowledge of many techniques and technologies, wants to bring the most innovative, efficient and complete solutions to the service of bakers : solutions that are respectful of their profession while still helping them to make a better profit.
Our teams mobilize at all times to react to the evolution of the profession : health, ergonomy, energy consumption. We are doing our best to offer you high quality products, with conformy certifications (CE) and in line with the refrigerant fluids regulations (F-Gas).
Aware of the stakes in terms of sustainable energy and energy reductions, CFI commits to a responsible approach to offer to its customers solutions geared towards this goal and accompany them in their energy transition : this is the CFI For Climate program.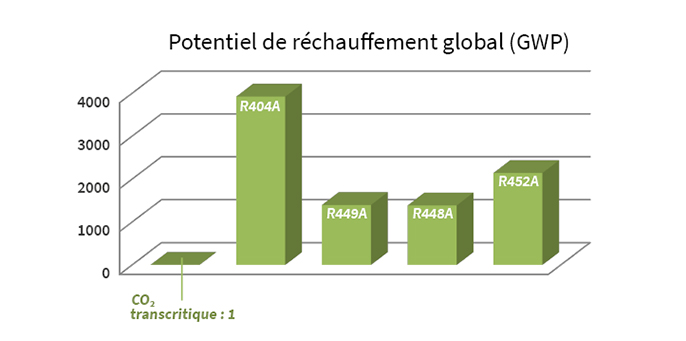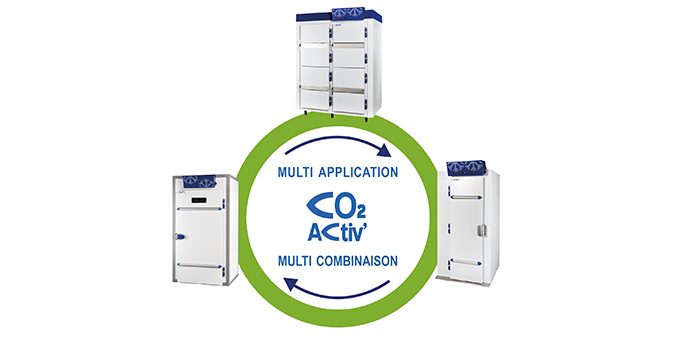 Environment protection
The evolution of the F-Gas regulation and the progressive deployment of taxes in Europe guide the refrigerating plants towards "green" fluids.
That is why CFI offers you its ecological, reliable and sustainable solution of C02 refrigeration
The CO2, not subjected to  the restrictions of the F-Gas  european  directive, is widely considered as an emission that plays an  important role in  global warming. For CFI, thanks to its near-zero environmental impact (GWP =1), CO2 is now considered as a resource for commercial refrigeration.
Our solution
CFI implements installations able to remotely connect units and power stations with CO2 Activ'. This solution allows to power combinations of Positive or Negative Conservation equipments for bakeries, while still maintaining the energetic performances thah CFI is well-known for, and preserving the environment.
The selected groups use compressors with digital regulation and speed control to adjust the cooling power depending on the demand of your installation, thus allowing substantial energy savings.
Cooling performance, conservation of the environment and quality of bakery products are the commitments of CFI.

Streamline air condensing unit with overturning in epoxy galvanized sheet
Rotary compressor BLDC with CO2
Frequency variator for the rotary compressor
Liquid line assembled with filter and warning light
Safety HP pressure switch
Access to the group through a hinged door
Gas cooler incorporated with one or two EC motorized ventilators
Sub cooler incorporated
Incorporated supply electrical panel, with disconnector on the front
Electronic regulator ew generation for the control of CO2

Natural Gas CO² (R744)

Energy efficiency

Average and Low temperatures

Low noise level